Timely Advice from Three Decades Ago
Posted On October 7, 2012
I have an embarrassing confession to make. I've never read Mindstorms by Semour Papert. I've known of him for decades & I've taught and used Logo, but I never actually read the book. I'm ashamed to admit it …but I'm making up for it now.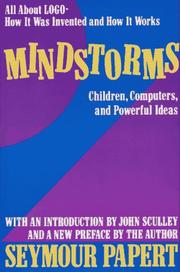 It's a great book: very readable, very approachable, lively in style and packed full of great ideas and content. The descriptions Papert gives of his students' learning, and the steps he takes to help guide them to greater understanding, are excellent. It's a beautiful description of actively engaged learners in a program geared towards helping them create meaning and understanding.
What struck me very intensely from the beginning is just how appropriate it is for this day and age. It's amazing. Papert wrote this book more than 30 years ago: the first edition was published in 1980. He was working with computers that have less power than the phone in my pocket. There was no world-wide web. The students weren't collaborating with other students and classes around the world. And yet, the learning he describes is in many ways more intense and more productive than what often happens in classrooms all around the world.  Papert's students are now adults (heck, they're only slightly younger than myself) and their children are blogging, tweeting, collaborating on web docs, contributing to wikis, etc. But their parents were reformulating problems in systematic ways to accomplish an objective. They were breaking down complex tasks into component parts. They were debugging their work when it didn't go right.
In this second decade of the 21st century when internet and computer access is omnipresent, there are those who say we are not doing enough to educate our children. There is plenty of movement afoot to make Computer Science and programming core subjects in the K-12 curriculum. Papert would no doubt applaud that and ask, "Why has it taken you so long?"
There's a passage in the introduction that is particularly poignant:
In many schools today, the phrase "computer-aided instruction" means making the computer teach the child. One might say the computer is being used to program the child. In my vision, the child programs the computer and, in doing so, both acquires a sense of mastery over a piece of the most modern and powerful technology and establishes an intimate contact with some of the deepest ideas from science, from mathematics, and from the art of intellectual model building.
Compare that passage from 1980 to this excerpt from Douglas Rushkoff's Program or Be Programmed from 2011:
We teach kids how to use software to write, but not how to write software. This means they have access to the capabilities given to them by others, but not the power to determine the value-creating capabilities of these technologies for themselves.
Mr. Rushkoff, meet Mr. Papert.
There is plenty more that can be said about Papert and Mindstorms, but I don't really have time right now. I have to go read the next chapter!